Pig-N-Vittles
Address: 126 Main St., Chesterfield, SC 29709
Phone: (843) 623-5225
Hours of operation: Mon-Wed 10:30-6pm Thur-Fri 10:30-8pm Closed Sunday
Address: 203 West McGregor Street Pageland, SC 29728
Catering Only
Phone: (843)-672-3434
Cards: yes
Real barbeque and sophisticated sides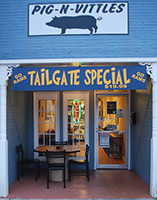 Pig-N-Vittles is a remarkable surprise for a small eatery found in a small town. The chef is classically trained and it shows. The sides are all as good as you would expect in an upscale restaurant and it's hard to say which is best. I can say that the red slaw (they have a white slaw too) was my favorite but the beans and "Tater Salad" were excellent. The Brunswick stew was gourmet and a pleasant surprise. Plus, they always have a "Market Side" which is some locally grown veggie that the chef has bought from a local market that day and cooked up. Now that is quite a treat both as a tasted experience and not the sort of attention to upscale cooking one finds in small towns.
But it's the barbeque that steals the show.
The Barbeque is cooked in a smoker over wood coals and falls into the 100 Mile category. Plus you can get smoked chicken as well as pulled pork. The sauces actually compliment the barbeque but it is best left off as the barbeque stands on its own.
If you are with someone who has lost their mind and doesn't want barbeque or if you have had your fill the day before and want a short lunch, then they have gourmet hot dogs (Chow Chow Dog, Carolina Dog and Korean Dog), smoked turkey sandwiches and pimento cheese sandwiches too. And ask them what the special of the day is. It changes and it is always good.
This is not a large place. There are only four tables inside and two on the sidewalk plus a down-one-side single seating. But if you are in the Chesterfield area or even in an adjacent county then you should head for Pig-N-Vittles to treat yourself to a very nice culinary adventure.