Circle M BBQ
Address: 345 Martin Sausage Rd.
Liberty, SC 29657
Phone: (864) 375-9133
Cards: yes
Hours of operation: Friday and Saturday 4:30 - 800 pm
You can taste the pride in this old fashioned barbeque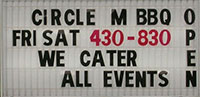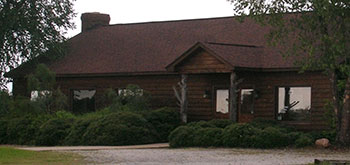 A couple of our judges were incredulous that we had not put Circle M BBQ into the 100 Mile category. We hadn't because we had not reviewed it but now that I've made the trip they were right! This is solid 100 mile barbeque.
Marion Martin (for whom Martin Sausage Road is named) is the proud proprietor and pit master there. He does it his way which is the old fashioned way – whole hog on a real pit cooked over hickory wood coals that he makes himself. He uses his own vinegar and pepper sauce which he admits limits him a bit as he is in a red sauce area but that's the way he wants it and that's the way you get it. Martin learned to cook a hog in eastern North Carolina and his barbeque is true to that time-honored form.
When I got some of that succulent barbeque I was so pleased that I ordered an extra pound to go. Plus, I also got a cut of those smoky ribs to go. His barbeque has just enough smoke to make it very pleasing but it is not over smoked. It has a unique flavor slightly different from most barbeque I've had around the state but his is not only different, it's better. His ribs are more heavily smoked but they were dry rubbed and then all that was added was the vinegar and pepper sauce. They were so tender the bones pulled right out.
He has a small, neat restaurant that is very welcoming and you order at the counter. They bring your plate to you. His one and only vinegar and pepper sauce, which may just be the best in the state, is on the table. One of the nice ladies there didn't recognize me so she asked if I was a first timer. When I said yes she offered me a complimentary single serving of Brunswick stew. I had already ordered a side of it so I declined, but it was so good I got some to take home.
Circle M is simple and simply good. They have barbeque, ribs, real barbequed chicken, marinated slaw, Brunswick stew, beans and rolls. That's it. But what an "it" it is. In fact in addition to taking home some extra meat and ribs, I got a pint of marinated slaw, a cup of Brunswick stew and a bottle of his sauce which he only sells at the restaurant. In other words, I got my fill at the restaurant and I still wanted more.
I drove 135 miles to get to Liberty, SC and eat at Circle M and it was worth every mile to sample this 100 Mile Barbeque. There are very few barbeque houses that still cook whole hog and do it over real wood coals. This is one of them and is not to be missed.