Q2U BBQ Pit
Address: Lake Wylie Plaza, 4052 Charlotte Highway, Lake Wylie, SC 29710
Phone: 803-831-8883
Cards: yes
Hours of operation: Wednesday-Thursday, 11:00-7:00pm; Friday-Saturday, 11:00-8:00pm
"Real championship barbeque on the lake."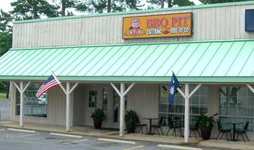 It turns out that Q2U is doing real missionary service at Lake Wylie. There are, as you would expect, lots of fish houses in the vicinity but there wasn't any decent barbeque in the area. Q2U fixed that.
They tell the story that as they were getting the store ready to open they had a sign company come out and put up their sign. It went up at 2:00 o'clock and by 3: o'clock people were knocking on the door to get some que. The steady stream of customers hasn't let up since.
I got there at about 1:35 and they were doing a land office business. I took a seat at the counter (it was an old pizza joint which they converted) and while I waited for my plate to be served 5 different groups came in to get orders to go. And the place had three of their five tables full (Q2U is smallish) with another couple sitting at the counter with me. And all of that activity was during the first month of their operation with the restaurant located off the road in the inside back of a shopping plaza. As I say, there is a crying need for good barbeque at Lake Wylie.
But it isn't just "need" that Q2U is filling. The owners are master barbequers who have proven their metal on the barbeque circuit in South Carolina and the southeast. Indeed, they are the winners of the Master Barbeque Award given out by the South Carolina Barbeque Association. That award has to be earned by winning multiple barbeque cook-offs over a full year's time. They have won it twice, which made them, in the years they were competing, the undisputed top barbeque team in the state. They have taken that expertise and brought it to their restaurant. As you may know, the MBA winners are now the SC Barbeque Championship winners so at Q2U you get barbeque from champions.
They serve barbeque, ribs and chicken and the ribs and chicken are probably the most tender you will ever eat. They also make their own sauce and bottle it for sale and it goes out the door regularly since it too is also a contest prize winner. They have three types of sauce, a vinegar and pepper with light tomato and the same sauce with some heat added and a new mustard sauce. I keep them at my house (it is a favorite of mine) and we especially like the Vinegar and Pepper hot version.
Don't pass up there side dishes either. I loved there green beans and potatoes and they also make their own macaroni and cheese. But it's the barbeque you come for and it's the barbeque you will remember and come back for, again and again.
If you want real championship barbeque Q2U is the place.